My childhood home was in Queenstown, the first satellite town in Singapore. It was named after Queen Elizabeth II to mark her coronation in 1952. A satellite town is essentially a self-sufficient housing estate located outside the city centre with its own amenities, schools, shops, markets, cinemas, and places of worship.
The town was built by the Singapore Improvement Trust (SIT) in the 1950s, and its subsequent development in the 1960s was taken over by HDB.
After getting married, I moved away to Bukit Batok to my own matrimonial home.
Twelve years later, I moved back to Queenstown after selling my Bukit Batok home. I bought over my parents' home, or my childhood home. Its location is so convenient. I can literally travel all over Singapore either on the MRT or bus.
From my current home, across the running track and on the other side of the MRT track lies the Tanglin Halt area. When I was a child, my mother would take me there to either the wet market, or HDB branch office to pay conservancy charges.
In those days, there weren't any digital payment facility or GIRO yet. Hence, my mother would dutifully make a monthly pilgrimage to the HDB branch office to pay conservancy charges. She would take me along. Waiting time was always excruciatingly long. I would be jumping up and down the sofa at the waiting area, or flipping the shutters up and down at the HDB branch office, after which I would always get a reprimand from my mother.
I even remember that my mum once ordered our sofa set from one of the furniture shops at Tanglin Halt.
Fast forward fifteen years, I would walk to the nearby Blessed Sacrament Church on Sundays for mass or Thursday evenings for catechism. Each time I would pass through the Tanglin Halt area.
Then after moving to Bukit Batok, I would still return to Queenstown to drive my mum to Church on Sundays. I would also bring my baby daughter along. After mass, we would stop by the Tanglin Halt wet market to buy meat, fish and vegetables. Very often, we would also stop to eat at the food centres or coffee shops in the area.
I also remember investing in some unit trusts at the Standard Chartered Bank which used to stand at a corner. The block of flats where the furniture shop and the Bank used to be located had already been demolished years ago.
Fast forward another twenty years, most of the residents in the Tanglin Halt area have moved out. This is because this area would be undergoing redevelopment. Residents have either moved to the new flats at the Margaret Drive area, or to other parts of Singapore.
About one-and-a-half years ago, my daughter and I took a last slow stroll around the area. I shared with her what I used to do there when I was a child.
I wasn't the only one feeling nostalgic. To our surprise, we discovered that the residents there had set up a temporary mini museum to remember the area.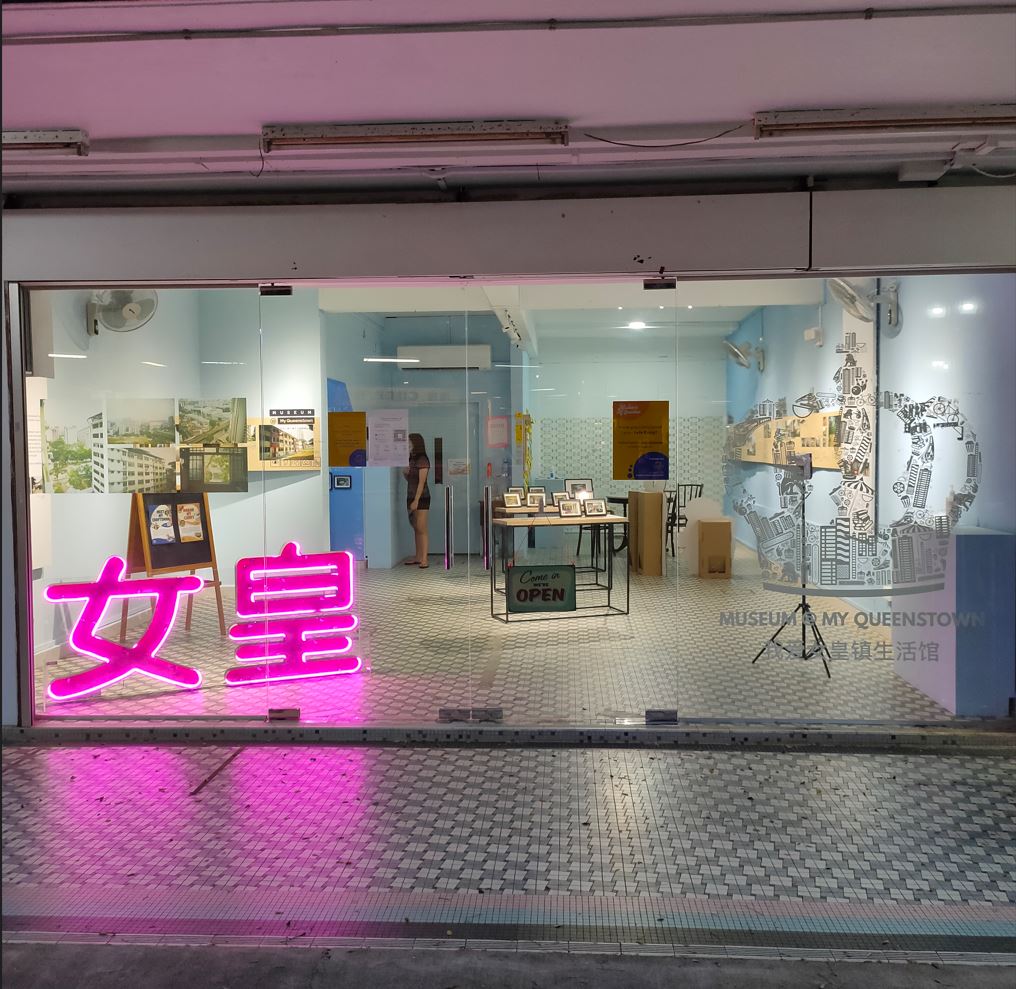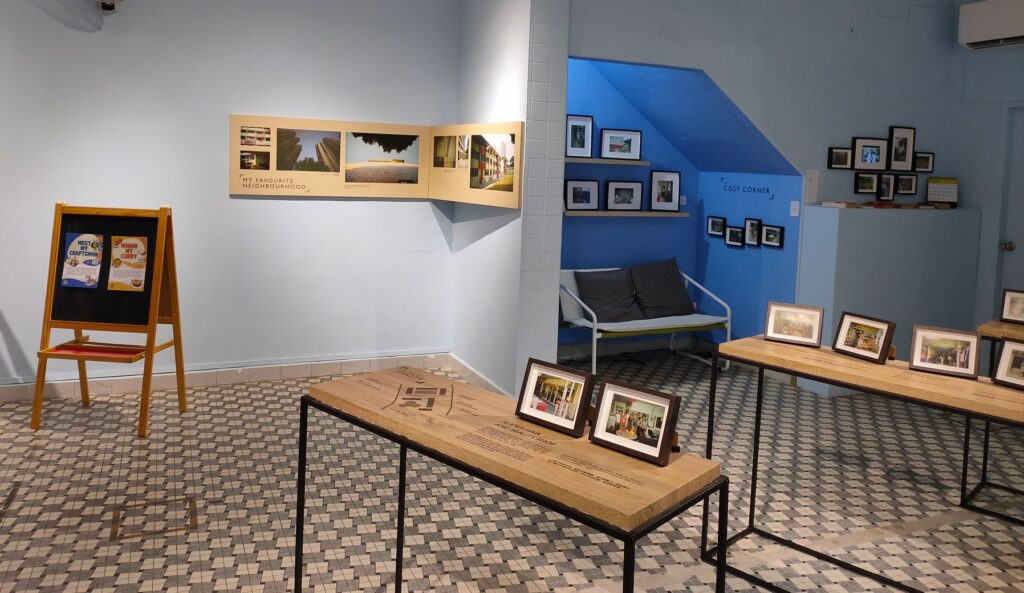 They contributed old photos, short notes sharing their fond memories, as well as fond and wistful farewell messages.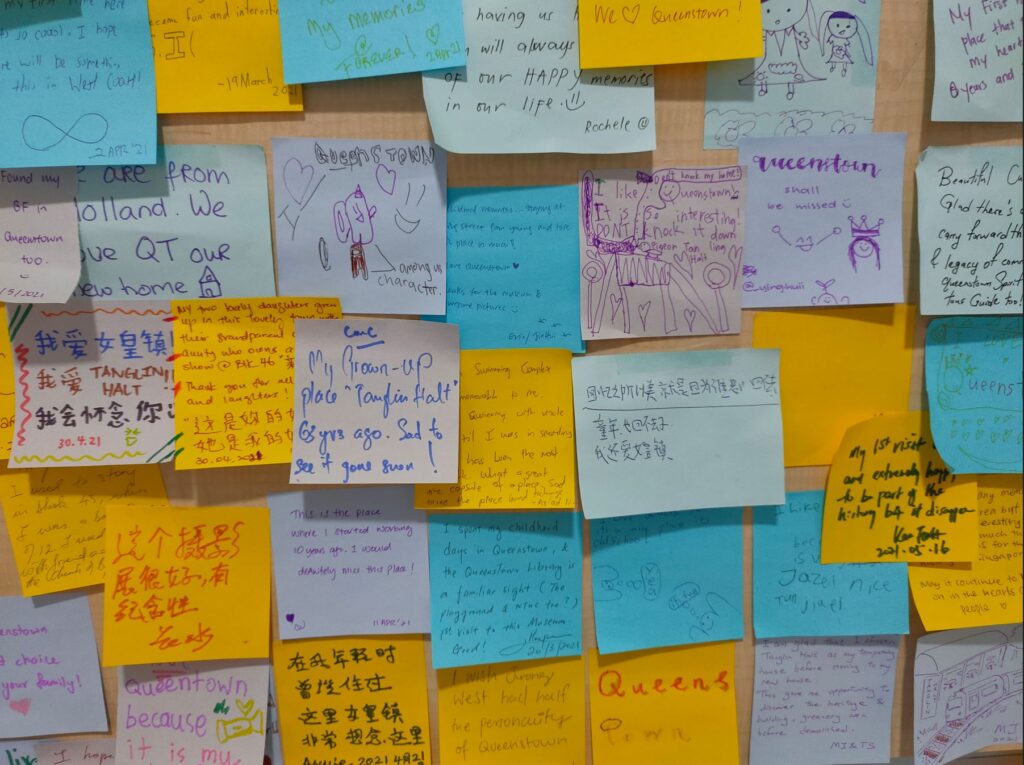 We had a meal at the circular shaped hawker centre near the HDB branch office. We made sure we took photos of the hawker centre and coffee shops before they would be vacated. Even the tree in the picture shows its age. I hope they keep this tree!
A couple of weeks ago, a friend of mine staying there moved out of the area to her new flat at Margaret Drive. She sent me a photo of her old estate. She said it now looks like a "ghost town", even in broad daylight.
Sadly, this area would soon disappear, only to be replaced by new buildings.
Goodbye to the old Tanglin Halt area. Even though you will soon disappear, I will still remember you in my heart.